Meet the Bleu Bite Catering Team
Cerstin Cheatham, Owner, Chef & Wedding Specialist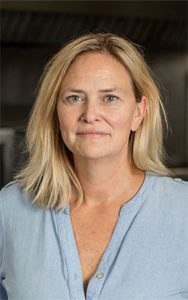 "I discovered my passion for entertaining in my mom's kitchen," reflects Cerstin Cheatham, creator, chef, and owner of Bleu Bite Catering. And those homey roots influence every aspect of Cerstin's catering from her rustic fare, personalized service, and custom menus to her distinctive presentation of food and décor.
Always entertaining…
Cerstin grew up in Northern California, but in 1993 she packed two cats and all of her belongings into her little black Subaru and moved to Bend, Oregon. Her early days in Bend were filled with snowboarding, camping, and entertaining. Indeed, at every opportunity she threw parties for friends and family that included creatively themed menus, décor, and activities. Entertaining has always been in this self-taught cook's blood, so no one was surprised the year Cerstin showed up for a Halloween party dressed as a punk-rock Martha Stewart!
Let the catering begin…
In 2000, Cerstin translated her passion for cooking, creating memorable events, and making people happy into a business—Bleu Bite Catering. In the beginning, Bleu Bite specialized in delivering fresh lunches to hungry working men and women and serving tasty food at local events. But Cerstin had a grander vision in mind, and she quickly transformed the business into a full-service catering company serving weddings, business luncheons, special events, and private parties.
Cerstin's meticulous nature, hands-on approach, and passion for her work have made Bleu Bite what it is today. Nineteen years after its creation, Cerstin continues to work as chef as well as oversee the business's day-to-day operations and kitchen management. In her efforts to stay sharp and on the cutting edge of catering, she also regularly attends professional seminars on cuisine, décor and design, and technique.
Not your typical catering company…
The fruit of Cerstin's labor-of-love is a catering company that stands apart from others. Bleu Bite is socially conscious, donating $40K annually in food and services to shelters, non-profits, and fundraisers, purchasing free range and locally grown meat and produce, using compostable cups and utensils, composting kitchen waste, and recycling. Bleu Bite is also particularly distinctive in its personal approach to event planning. For every occasion Cerstin and her staff work one-on-one with clients to create a unique and memorable menu, plan décor, and customize staffing. With individualized attention to detail as the company's cornerstone, Bleu Bite has won a reputation for hosting successful events that are fun and have flair.
Bleu Bite's goal is for clients and their guests to be wowed by flavor and presentation, and this is surely something Cerstin and her staff achieve over and again.
---
Vivian, Customer Service Manager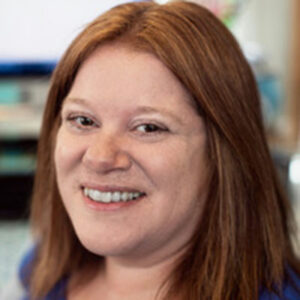 Vivian joined the Bleu Bite team in 2017, bringing with her a wealth of customer service experience and a culinary arts degree from Western Culinary Institute.
Vivian's customer service role at Bleu Bite entails both engaging with customers and behind-the-scenes office work. No matter what task she's performing, her goal is always to deliver warm, friendly customer service and ensure that the office runs smoothly. Vivian also keeps in the loop with new catering trends by attending the annual catering convention with Cerstin and other "Bleu Crew" team members.
While Vivian grew up in both Oregon and Arizona, she's always at home when her family is nearby. Whether they're playing pickleball, just being lazy, or geeking out on movies, Vivian, her husband, and her son know how to make any moment a fun time.
---
Allan, Business Manager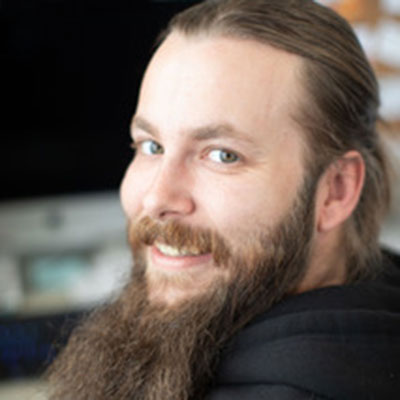 Allan, Bleu Bite's Business Manager, brings a lot of management experience to the team, having had that role at both Johnny Carino's and Red Robin. He loves the challenge of applying his expertise in new ways at Bleu Bite. And since he sees great food as a fundamental component of happiness, he's definitely found the right job.
With a love for computers and the outdoors, Allan likes to spend time gaming and camping. But more than anything, he loves cuddling up on the couch with his wife and fur babies.
---
Allie, Wedding Coordinator & Digital Media Director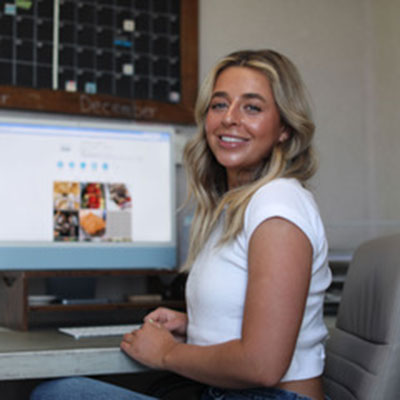 Allie joined Bleu Bite after graduating from the University of Oregon in 2022. Her goal is to become a Wedding/Event Coordinator, so every experience at Bleu Bite brings her one step closer to her dream. As Bleu Bite's Wedding Coordinator, Allie's professionalism and energy help ensure we get every wedding just right. And as Digital Media Director, she finds fun and creative ways to share what we're up to with all our followers.
Allie spent the first 18 years of her life as a ballerina and competitive dancer. And even though she's still as busy as a bee, she still squeezes in time for fun, like working out, traveling, and cooking with her parents.
---
Jason, Chef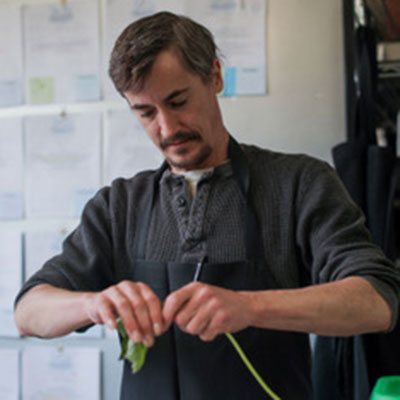 When Jason was eight, his parents took him to a 4-star restaurant. That was the moment he decided he wanted to be a Chef. That decision drove him to get a degree in culinary arts and become certified as a Level 2 Sommelier. While the dream has shifted over time, his focus on the food service industry has endured. For the last 25 years, Jason has worked in every aspect of food service, and he brings all that know-how to his work as an Events Manager at Bleu Bite.
Jason is an adventurer, and when he plays, he plays hard. He likes to extreme vacation, doing things like rafting the Grand Canyon and working on a cattle ranch. And with any luck, he and his dog Bentley will climb Smith Rock this year.
---
JJ, Chef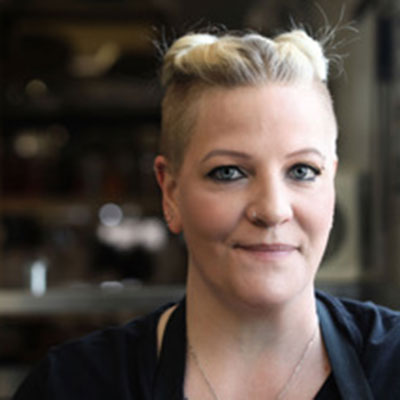 Host, server, kitchen manager, and cook. JJ is passionate about food, and it shows. It shows in the exquisite dishes she crafts for Bleu Bite events, in how she loves whipping up yummy meals to share with her daughter, and in her dream of owning a B&B and feeding guests with food grown right there in her garden.
In her spare time, JJ loves gardening, cooking, and photography. And she loves hanging with her fur babies—dogs Meatloaf and Roux, and Beans the cat. We need to ask her if she named them after her favorite foods!
---
Rebecca, Chef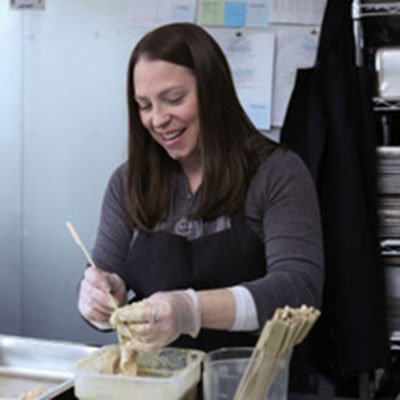 Rebecca has worked in the food industry for 30 years, starting as a hostess and working her way up from there. We're happy to have her as one of our fantastic chefs on the Bleu Bite team. Rebecca loves learning and can always be counted on to keep the conversation interesting during long days of creating delicious meals for our clients.
After hours, Rebecca likes to relax with her cats (four of them!), her turtle Mr. T and her fish Gordan or getting outside and enjoying nature.
---
Sandy, Chef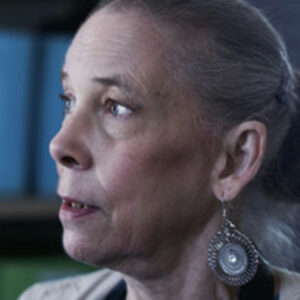 ---
Allison, Operations Manager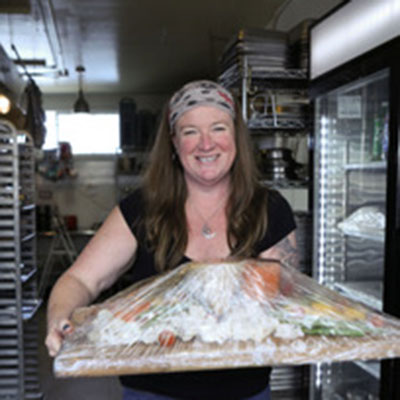 Allison got her start in the food industry as a way to raise money for her terminally ill nephew. She orchestrated several fundraising events, which were such a hit that she got hired to put on events for a living. Allison loves the fast pace of the catering world and puts her outstanding organizational skills to work handling Back of House for Bleu Bite.
Allison and her long time partner have a full and bustling house with five daughters, 2 turtles, a gecko, 3 hermit crabs, and a Saint Bernard—their only son! When she can squeeze in some time, she loves backpacking, van adventures and having people over to her house for food and fun.
---
Noah, Operations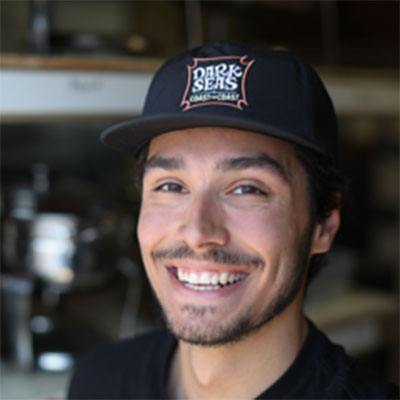 Noah caught the catering bug during high school when he took a summer job with a caterer. He also loves great food and working in different, beautiful locations every day, so Bleu Bite was a perfect fit for him. Noah's been with Bleu Bite for a year and works both Back of House and Events.
Noah grew up on the beach in South Carolina, so moving to Bend, on his own, two years ago was quite the adventure. Now that he's here, he's loving life, filling his days with skiing, hiking, surfing, and live music, or chilling at home with his long term girlfriend.
---
Marc, Dish & Handyman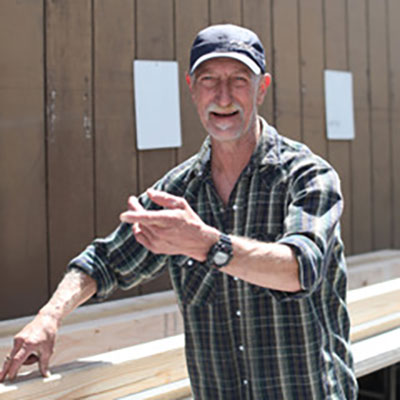 Marc, Bleu Bite's Dishman, loves playing music, working with his hands, and creating things—someday, he'd like to build his own log cabin. On his days off, you can expect to see him with his daughter, doing something fun or just relaxing.
---
Nick, Dishman & Operations
Nick has a variety of roles at Bleu Bite. In the kitchen, he performs back-of-house duties, and at events, he works as a Party Chef and a Server. In his downtime, Nick likes to get outside and enjoy a sunny day on a lake.
Biographies Written By: Nimble Ink
Photos by: Tullisphoto